FAIRFIELD COUNTY BANK HOLDS 142ND ANNUAL MEETING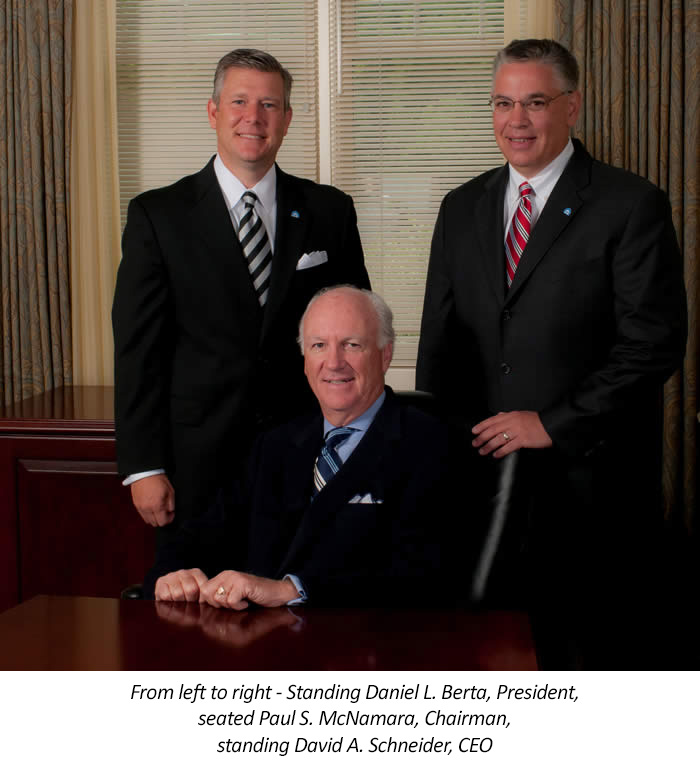 Ridgefield, CT – On July 16, 2013, Fairfield County Bank held its 142nd Annual Meeting.  The many attendees included members of the Board of Directors, the Board of Incorporators and Senior Management of the Bank.
The Board of Incorporators represents business professionals from throughout Fairfield County.  This year Chris McMahon, President of McMahon Ford, located in Norwalk, CT was elected to the Board of Incorporators.
Senior Executive officers: Paul S. McNamara, Chairman, David A. Schneider, CEO, and Daniel L. Berta, President presented an optimistic overview of the banking industry, the impact of the current up trending economic environment on the Bank, the Bank's financial reports and the accomplishments of the Bank relative to its current strategic plan.  The presentations of the group showed the Bank had planned well for the current economic conditions and was performing better than the peer group it uses in its benchmark and performance metrics.  All were confident the Bank will continue on its strategic path and perform well in the coming year.
Presentation highlights included a review that the banking industry is proving to be financially stronger than in the past few years; with Fairfield County Bank's performance being no exception.  Also noted, was the expanding footprint of the Bank through remote ATMs, electronic banking, and Fairfield County Bank Insurance Services newest merger with The Connelly Agency, Inc. of Fairfield, CT.  Coupled with the expansion came a change in leadership; effective July 1, 2013, Mark Connelly became President of Insurance Services.  While the economy cannot be controlled, the Bank continues to look internally for ways to grow and remain financially strong.  Year after year Fairfield County Bank's three divisions: the Bank, Insurance Services and Financial Services have consistently supported one another ensuring remarkable performance.
Headquartered in Ridgefield, CT, Fairfield County Bank operates: 20 branch offices throughout Fairfield County. Fairfield County Bank Insurance Services, LLC, also headquartered in Ridgefield, and Fairfield County Financial Services, which provides access to investments through Infinex Investments, Inc., partner with the Bank in providing a wide spectrum of insurance and financial services to the customers and communities the Bank serves.