FAIRFIELD COUNTY BANK INSURANCE SERVICES AND FAIRFIELD COUNTY BANK HOSTED CYBER SECURITY AWARENESS AND FRAUD PREVENTION EVENTS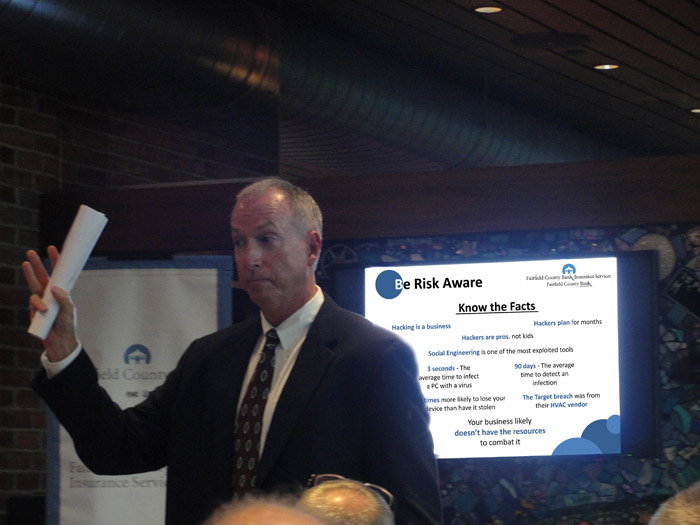 Ridgefield, CT – October 18, 2016: Fairfield County Bank Insurance Services and Fairfield County Bank hosted two local events educating customers on the potential threats of cybersecurity fraud. The speakers from Fairfield County Bank included Donald McGran Jr., Security Advisor, and Stephen Wooters, Executive Vice President, Digital Payments. The final speaker, Jeff Welsch is a Senior Vice President at Fairfield County Bank Insurance Services. The events were held at the Inn at Longshore in Westport, CT, and The Prospector Theatre in Ridgefield, CT.
Over the past two years, big businesses have made headlines because scammers have hacked them. It isn't just big business that gets hacked, in 2015 small businesses were the target of 43% of all known hacks. "Cyber security breaches are a huge threat to our industry and businesses alike," said Dan Berta, President of Fairfield County Bank. "We want to educate our customers on how hackers and scammers can disguise themselves to steal financial information and money from them personally and professionally." Social engineering was a key focus of the night. Scammers use social engineering practices to take advantage of our natural ability to trust. Once mastered, it is easy for one to get personal information without the victim realizing they are being scammed.
As a business or a consumer, always take the necessary precautions to protect your financial and personal information. If you are at an ATM or any card payment terminal, always cover the keypad when entering your PIN number and look for devices that do not belong there and signs of obvious tampering. Have security and authentication in place for your computer systems. It takes 3 seconds to infect a computer and up to 90 days to find it. For a business, the average cost of a cyber-breach is estimated at $204 per lost record.
October is National Cyber Security Awareness Month; Fairfield County Bank will focus website and social media on further education for our customers. For more information regarding Cyber Security, visit Fairfield County Bank's website at https://www.fairfieldcountybank.com/privacy/cyber-security
Fairfield County Bank is a $1.5 billion community bank headquartered in Ridgefield, CT with locations throughout Fairfield County. Visit www.fairfieldcountybank.com to find out more about the Bank.