FAIRFIELD COUNTY BANK APPOINTS KAREN CRITELLI TO EXECUTIVE VICE PRESIDENT, CHIEF FINANCIAL OFFICER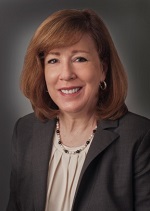 Ridgefield, CT – Fairfield County Bank is pleased to announce the appointment of Karen Critelli to Executive Vice President, Chief Financial Officer.
Ms. Critelli joined the bank in 2001 as V.P. Controller and has served as Senior V.P. Treasurer since 2006. Ms. Critelli is responsible for finance and treasury operations.
Karen received her Masters of Business Administration (M.B.A.) from Pace University. Karen also received her CPA and CMA from the State of New York. Karen is a graduate of the National School of Banking and the Graduate School of Investments at the University of South Carolina. In addition, Karen is a current member of the AICPA, AMA, and FMA.
Karen is an active member on the Finance Board for Sacred Heart Church as well as the PTO board for Memorial Middle School. Karen was named Region 15 Parent Volunteer of the year in 2011 and 2012.