FAIRFIELD COUNTY BANK HOLDS 148TH ANNUAL MEETING; ELECTS NEW INCORPORATORS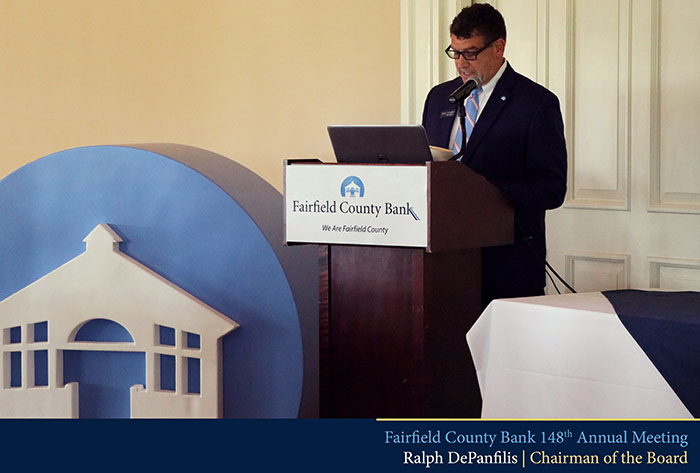 Ridgefield, CT – August 6, 2019: Fairfield County Bank held its 148th Annual Meeting. The attendees included the Board of Directors, The Board of Incorporators and the Senior Management of the Bank. The Annual Meeting is held to inform the Incorporators on the financial well-being of the Bank, success and growth over the past year and strategic plans of the coming year.
Ralph L. DePanfilis, the Chairman, welcomed the attendees to the meeting, led the vote to elect new Corporators and honored Paul S McNamara, Chairman Emeritus, on his commendable 32 years of stewardship. David A. Schneider, CEO, and Daniel L. Berta, President, presented on the financials of the Bank, the product and service offering, innovation across the organization, and Community engagement. Presentation highlights included a review of the strong financial position of the Bank and the Bank's commitment to Fairfield County through more than $500,000 in corporate donations and over 2,000 Employee volunteer hour's year-to-date. The presentation further highlighted Fairfield County Bank's capabilities as a full-service bank, including services through Fairfield County Bank Insurance Services and Fairfield County Financial Services.  Mr. Berta mentioned the Bank's plans to release an enhanced online and mobile banking experience during the fourth quarter of 2019, and the Bank's continuous investment in their Clients through their 16 branch offices with the latest redesign at 69 Wall Street in Norwalk.
It was announced that the Bank made a $25,000 donation to the United Way Pathways to Prosperity.
The Bank elected four new Incorporators to the Board, John DesRochers, of Norwalk, CT, Michael P. McNamara, of Ridgefield, CT, Edward Simoneau, of Ridgefield, CT, and Teresa (Terri) Polley of Norwalk, CT.
Founded in 1871, Fairfield County Bank is a $1.5 billion community bank headquartered in Ridgefield, CT with locations throughout Fairfield County.  Fairfield County Bank delivers a full range of financial services through superior Client relationships and the knowledge that when you put your money in Fairfield County Bank, it stays in Fairfield County - strengthening our communities.  Visit www.fairfieldcountybank.com to find out more about the Bank.