FAIRFIELD COUNTY BANK DONATES $12,000 TO ACT OF CT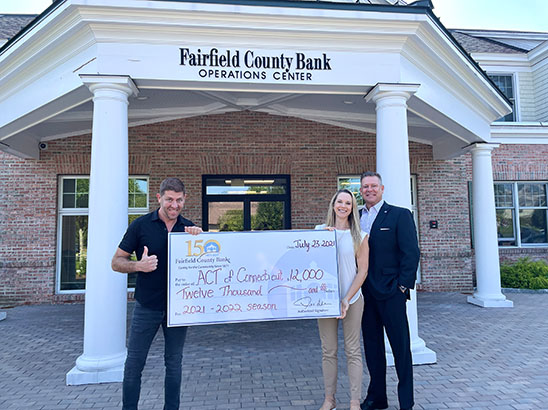 Ridgefield, CT – July 26, 2021: Fairfield County Bank and ACT of CT have had a long-standing partnership, which has been furthered by recent donations.
This summer, Fairfield County Bank made a donation specifically to support bus transportation for students to attend the educational programs that ACT (A Contemporary Theatre) puts on, in addition to the Bank's yearly support of ACT's production seasons. ACT of CT's mission is to elevate the level of entertainment in Fairfield County and to foster a sense of community through the arts by producing exceptional theater and encouraging an environment of inclusivity and artistic excellence.
A portion of the Bank's yearly donation will be used to help fund First ACT! First ACT! was created to support, encourage, and nurture students of all socio-economic backgrounds, races, ethnicities, and genders so that they may receive the highest level of theatrical training, education, and opportunity possible.
Fairfield County Bank President, Daniel Berta, shares, "ACT of CT has brought fine arts productions as education to students in our community," said Mr. Berta. "I am proud that our Bank can help support students' ability to experience this one-of-a-kind educational opportunity."
ACT of Connecticut is a nonprofit professional Equity theatre located in Ridgefield, CT. Founded in 2018 by Katie Diamond, Daniel C. Levine, and Bryan Perri, ACT of CT presents limited engagement runs of well-known musicals, as well as world-premiere productions by the next generation of writers and composers. In addition to fully produced mainstage productions, ACT of CT's programming also includes an extensive theater education program, which Fairfield County Bank is proud to support.
Founded in 1871, Fairfield County Bank is a $1.9 billion community bank with locations throughout Fairfield County. Fairfield Country Bank delivers a full range of financial services through superior Client relationships and the knowledge that when you put your money in Fairfield County Bank, it stays in Fairfield County—strengthening our communities. Visit www.fairfieldcountybank.com to find out more about the Bank.