FAIRFIELD COUNTY BANK ANNOUNCES VOLUNTEER OF THE YEAR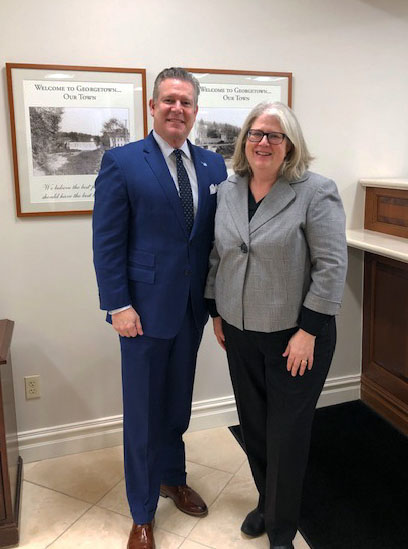 Ridgefield CT—February 07, 2022: Fairfield County Bank is thrilled to announce their Volunteer of the Year for 2021, Vice President and Branch Manager of the Georgetown Office, Doreen McManus.
Doreen has spent 26 years with Fairfield County Bank, building relationships with clients and the charities they are passionate about. In 2021, Doreen was a three-time Employee Champion for the Bank's Charity of the Month program, winning all three times. In Doreen's words, "being a Champion for Charity of the Month means building a deeper relationship with my customers and the nonprofits that we support. Working side-by-side, supporting their goals, getting to know who they are and what they give back to the community helps me understand their mission."
Beyond the Charity of the Month program, Mrs. McManus spent over 40 hours volunteering her time across 10 charitable organizations this past year. She has been a 30+ year supporter of United Way of Fairfield County. When asked about Doreen's commitment to the community Andrea Coreau, Senior Vice President of Retail Sales & Operations Leader, said, "Doreen doesn't volunteer to be recognized—she shies away from any attention it may bring her. She gives her time because it brings her happiness and so that she can raise awareness for the organizations she is passionate about."
A $1,000 donation was made to the Alzheimer's Association Connecticut Chapter on behalf of Doreen as a part of the Volunteer of the Year Award. Alzheimer's is the most common cause of dementia, with more than six million Americans living with the disease. Doreen chose this organization to receive the donation on her behalf because of a personal connection to the fight against Alzheimer's.
To learn more about the Alzheimer's Association and join the effort to find a cure, please visit https://www.alz.org/. To vote for Fairfield County Bank's Charity of the Month visit, https://www.fairfieldcountybank.com/general-information/charity-of-the-month.html.
Founded in 1871, Fairfield County Bank is a $1.9 billion community bank with locations throughout Fairfield County. Fairfield Country Bank delivers a full range of financial services through superior Client relationships and the knowledge that when you put your money in Fairfield County Bank, it stays in Fairfield County—strengthening our communities. Visit www.fairfieldcountybank.com to find out more about the Bank.